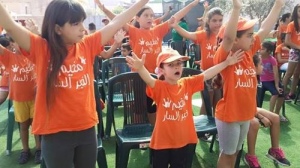 The hot summer months have little to offer to children in many towns in Israel, and VBS is a great way to reach out to children and their families with the love of Christ. More than 1000 Kids attended VBS organized by Baptist churches this summer in 10 towns and villages. It is nothing to be taken for granted that the small Baptist community in Israel could serve this number of children without having the adequate facilities to do it.
VBS would usually require space and playgrounds that lack from most of our churches. While the larger Baptist churches in Nazareth and Kufur Yaseef were able to provide a 2 week VBS for their communities, they had to limit it to 90 kids in each camp, as they had no space. For the smaller churches, especially the ones who use rented buildings, organizing a VBS is a much bigger challenge.
The first task is to find a family that owns a large yard or parking area that could be converted to a temporary playground, with all that is involved in preparing it. Finding volunteers to help at the camp is another challenge, as churches are small in number. Usually, almost every member in the church will be volunteering in one way or another. Youth from other churches would come to give a hand as well. Volunteers from abroad came to help in a few camps too.
By donating 120 USD, you will be sponsoring one kid to attend VBS in their town this summer to encourage them as they grow in their faith and hope in our Lord. You can donate through this www.baptist.org.il/supportus