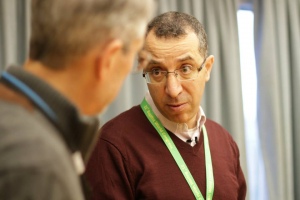 Nazareth Evangelical College (NEC) hosted a breakfast gathering during the Baptist World Congress that is being held in Durban, South Africa. The event was hosted by BMS World Mission, one of the partners of NEC.
During the event, Dr. Yohanna Katanacho, Academic Dean of Nazareth Evangelical College, shared about challenges of being a Christian in Israel today.
Other participants in the event including Azar Ajaj, director of public relations at NEC, and Monther Naum, General Director of the Association of Baptist Churches in Israel, in addition to David Coffey, Ambassador of BMS World Mission and friend of NEC.
Baptists from more than 80 countries gathered in South Africa to participate in the 21st Baptist World Congress in the city of Durban, from July 22-26. It is the first Baptist congress in Africa, a region with the fastest numerical growth among Baptist Christians. The congress, normally held every five years, was first hosted in London in the United Kingdom in 1905.