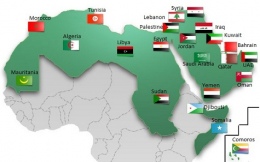 The European Baptist Federation Council meeting in Bucharest, Romania 24th – 27th
September 2014 Recognizes the historic and effective witness of Christians in the Middle East and gives glory
to God for their faithfulness to Jesus Christ.

Expresses solidarity with Christians and other religious minorities in the Middle East who
continue to suffer because of multiple conflicts and aggressive persecution.
Deplores as evil the aggression and actions of extremist groups and prays for an end to all
current violence and hatred throughout the Middle East.
Believes that the path to achieve peace and to be free of extremism is through Justice,
Development, Human Rights and Rule of Law
Continues to pray for and support Christians in the Middle East, seeking God to sustain their
witness in the midst of their home communities.

Seeks to develop and deepen relationships with Christians in the Middle East and to
encourage advocacy for Christians and religious minorities in the region.
Finds hope for all Christians experiencing persecution in the words of the Apostle Paul who
said:
Who shall separate us from the love of Christ? Shall trouble or hardship or persecution or
famine or nakedness or danger or sword? As it is written:
"For your sake we face death all day long; we are considered as sheep to be slaughtered."
No, in all these things we are more than conquerors through him who loved us. For I am
convinced that neither death nor life, neither angels nor demons, neither the present nor
the future, nor any powers, neither height nor depth, nor anything else in all creation, will
be able to separate us from the love of God that is in Christ Jesus our Lord.
(Romans 8:35-39)