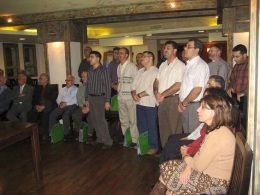 Let the priests, who minister before the LORD, weep between the temple porch and the altar. Let them say, "Spare your people, O LORD. Do not make your inheritance an object of scorn, a byword among the nations. Why should they say among the peoples, 'Where is their God?' " Joel 2:17
On Friday November 9, 2007 the Association of Baptist Churches held a conference for pastors and ministry leaders at the Grand New Hotel in Nazareth. The first meeting was intended as a call to action for establishing a more cohesive bond between pastors and leaders within the association and provided a time for Christian fellowship. It also allowed a forum for reviewing past accomplishments, establishing future goals and discussing the development and adoption of a new association-wide constitution.
A presentation outlining the goals of the conference, the goals of the ABC, their accomplishments, plans and challenges was prepared and Monther Naom, chairman of the ABC, spoke about each area. The group then spent time in a question and answer session before breaking for dinner. After dinner, they gathered again to continue with a time of praise and worship. Pastor Khaled Dally led the group in singing and prayer and then the discussion resumed. The evening concluded with a special devotional from Joel 2:17 led by Hani Sayegh with the leaders gathering to take the Lord's Supper together afterward. The next day the leaders gathered again to continue the meeting. The conference was concluded with everyone joining together to sing the Lord's Prayer.