2013-06-14 10:12:02
0 Comments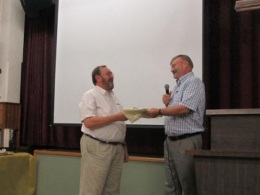 The Local Baptist Church (LBC) in Nazareth held a farewell party on Friday the 14th of June for Rev. Phil Hill.
Rev. Phil Hill served as interim pastor of LBC for 2 years ,lecturer in Nazareth Evangelical Theological Seminary (NETS) , member of the executive of the Association of the Baptist Churches (ABC) and recently as a member of board of NBS.
Rev. Phil Hill and wife Angela lived in Israel for the last 5 years serving among the Arab Baptists after 30 years of ministry as pastor in England.
The farewell party included speeches by Rev. Azar Ajaj, Rev. Dr. Bryson Arthur (for NETS), Monther Naum (for ABC) and Rani Saba for LBC.
In addition NBS board Chairman Najed Azzam thanked Rev. Phil for his contribution as a board member of NBS and giving a fresh perspective.
Rev. Phil Hill thanked all those that attended and noted the love he has for the Arab Christian believers in Israel. He said-he had a word for LBC: find your talents and release them.At the end the participants that included friends and pastors from around Galilee shared in a meal.
​
Najed gives Phil NBS token present

Rani shares for LBC

Rani brings the couple the present from LBC

Pastors and elders pray for the couple

Ibraheem and Worood

Singing and worship

Rula and Manal

Bryson shares about Phil

Bryson gives Phil NETS present

Zaher and Bader

Mother Naum shares for ABC

Phil and Angela