2013-02-08 00:00:00
0 Comments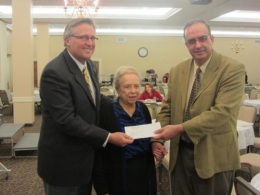 Wilshire Baptist Church in Dallas, Texas honored last week a missionary couple who served in the Holy Land and Lebanon for few decades. Senior pastor of church Rev. George Mason presented the general director of NBS Botrus Mansour who was visiting Dallas a scholarship for one student in Nazareth Baptist School (NBS) in the name of the missionaries late Rev. Finley Graham and Mrs. Julia Graham. Julia who is 96 and a member in the church was present in the special ceremony on the 30th of January.
Mr. Mansour shared the congregation about life as Christians in the Middle East. Then Rev. George Mason presented the financial gift.
Mrs. Graham was deeply touched and shared about her life in the Middle East and the love she has to the people she and her late husband served.
The couple had served in Palestine (including in Nazareth) until 1945 then moved to Lebanon and Rev. Graham also served as Regional Director of the International Mission board in Cyprus during the civil war in Lebanon.