2013-07-07 20:03:23
0 Comments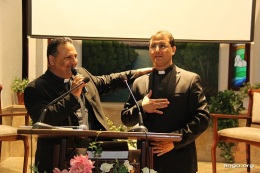 The Association of Baptist Churches (ABC) in Israel and the Evangelical Baptist Church in Shefamer held a ceremony on July 5, 2013 at the Baptist Church in Nazareth to ordain Nader Hayek as a pastor. About 300 people from various evangelical churches and many of Pastor Hayek's relatives attended.
The ceremony began with a word of prayer from Fouad Sahknini, pastor of the Baptist church hosting the event in Nazareth. Pastor Khaled Dalleh, host of the event and pastor of the Evangelical Baptist Church in Kafer Yasif, welcomed the attendees. He especially welcomed those who came from the Baptist church in Shefamer, where the newly ordained Pastor Hayek will serve.
Pastor Dalleh also led a time of praise and worship, followed by the Chairman of the ABC, Mr. Munther Naa'um, who shared a word to encourage brother Nader and his wife Noura as they serve the Lord
Pastor Ashraf Abishay, Pastor Hayek's spiritual mentor, shared a short word from Matthew 16: 13- 21. He talked about the importance of the church "the body of Christ" and its role in building the Kingdom of God and salvation of souls.
Mrs. Zeina Na'um sang "In this life, it pleases me to serve the Lord." Mr. Mamdouh Gadallah and Hani Bellan, pastor of the Baptist church in Cana of Galilee, read from Ephesians 4:1-13 and Timothy 3: 1-7.
Pastor Andrawos Abu Ghazala shared from Malachi 2: 5 saying that God has made a covenant with Nader and Noura, to bless them with life and peace especially as they serve Him. At the end, members of the spiritual committee of the ABC, represented by Pastor Khaled Dalle, Pastor Hanna Katanacho, and Pastor Soheil Sa'ad laid hands on Mr. Hayek as they officially ordained him. They prayed for him as well as the rest of the members.
After the ordination, Pastor Nader Hayek promised to commit himself to the work of the Lord and the spread of the Kingdom, dedicating his life to serve the Lord in all faithfulness. He thanked the Great Shepherd the Lord Jesus and the members of the Baptist Evangelical Church in Shefamer and the brothers at the Baptist Association for their support of him, especially in ministry.
In conclusion, they sang "You have given me a mission, Oh Master" and the Lord's prayer was said and the apostolic blessing was given. Pastor Nader was then congratulated for his ordination.
(Linga)