2012-02-20 00:00:00
0 Comments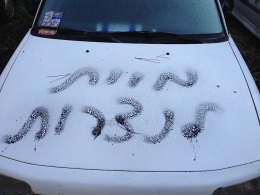 The police spokesman Mickey Rosenfeld said Monday February 20 that the vandals desecrated the church and slashed tires of three cars nearby, with 2 of them that belong to Jewish neighbors that were allowed to park inside the church parting.

The Words "price tag" was also scrawled on the church property. It's a reference to a practice of Jewish extremists who lash out against the Israeli government for actions against settlers in the West Bank.

Other graffiti included "we will crucify you" and curses for Jesus and "death for Christianity".

This church was built by Southern Baptists in 1923 and has been burned by arsons twice. It reflects a general feeling of increasing violence against minorities and lack of tolerance in Israel.
Cursing Jesus. Price Tag

Death of Christianity

We will crucify you

Remove the unclean from your midst

Death for Crusaders

from the verse: "Nor shall you bring an abomination into your house, lest you be doomed to destruction like it. You shall utterly detest it and utterly abhor it, for it is an accursed thing"

Cursing Jesus. Price Tag. We will crucify you

Death for Christianity

Death for Christians

Cursing the virgin Mary

Police arrives to investigate

Cursing Jesus. Price Tag. We will crucify you