2016-01-18 04:42:15
0 Comments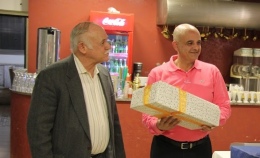 Southern Baptists planted churches in Israel from 1923 to 1993. In the early nineties, the International Mission Board of the Southern Baptist Convention introduced a new global strategy focusing on "un-reached groups."

Meanwhile, David Groseclose first came to serve in Israel in 1969 and served for many years within Baptist churches in Nazareth, Haifa, Cana of Galilee, Rama and other places. When the board's new policy was implemented, he moved to the hills of Upper Galilee and began reaching out to an unreached community and served for an additional 20 years in full partnership with local Baptists and other Christians.

Now, after over 40 years of service, David has retired. Many of those involved in Baptist work in Israel came to pay tribute to David and celebrate his years of service to the Lord. It was an evening of laughter as they recalled the many practical jokes that are inevitable when American and Arab cultures come together and it was also a time to reflect on the beautiful partnership between this man and the local Baptist community.

Over the years, David has worked in towns and cities across northern Israel, bringing the Good News of our Lord Jesus Christ to many. One of the new believers David discipled is Nizar Shaheen, now one of the best-known evangelists in the Arab world. With his shift in focus to unreached groups, David was key in teaching and inspiring local Baptists about their responsibility to carry the message of the gospel to all people in Israel. David was loved by all because of his gentleness, kindness, sense of humor and his gift for infecting others with his love for unreached groups.

For the last 15 years David has partnered with a local couple. Because of the efforts of this blessed team, today there are a handful of believers in Christ from an unreached community where many of them are willingly and eagerly coming to know Christ and understand His sacrifice for them on the cross.

As David retires and plans to return to the United States, the couple continue the work that has been set before them, discipling new believers as they grow in their faith.