2013-06-29 12:52:50
0 Comments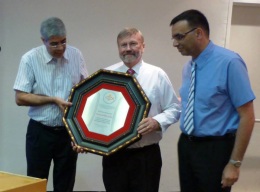 Faculty and students past and present from the Nazareth Evangelical Theological Seminary (NETS), the Association of Baptist Churches in Israel (ABC), Nazareth Baptist School, local Pastors, and many other friends and students bid farewell to Dr Bryson Arthur and his wife, May, at a well attended farewell dinner at the Gardenia Hotel on Friday 29thJune.
Dr Bryson and his wife May were instrumental in the establishment of NETS which is an independent, inter-denominational evangelical seminary planted by the ABC. The programs offered are a Bachelors of Divinity Degree (BD) and a Master of Theology Degree in Applied Theology which are of international standard and are internationally accredited.
Fulsome tributes were paid to Dr Bryson and his wife. Azar Ajaj, Acting President of NETS, gave a fond and often humorous tribute to his friend and colleague. Followed by a word from Monther Naum, the Chairman of the ABC, thanking Bryson for the great achievement of establishing NETS, in spite all the challenges and difficulties he faced.
Jordan Evangelical Theological Seminary (JETS) in Amman, where Dr Bryson and his wife May will be taking up Teaching and Administrative posts respectively, were represented at the dinner by
Dr Imad Shehadeh, President of JETS, who gave a testimony about how the Lord led him to ask Dr Bryson to come and work with him at JETS.
Butros Mansour, General Director of Nazareth Baptist School, shared a word on behalf of the Local Baptist Church in Nazareth, and also as a close friend of Dr Bryson and May. This was followed by a Photo Slide Show from Bader Mansour about Dr Bryson and May's life and ministry. Bader Mansour serves as the Executive Secretary of the Association of Baptist Churches in Israel and is one of the co-founders of NETS.
Food was then served before gifts and flowers which were presented to Dr Bryson and May. Dr Bryson then gave his farewell speech of gratitude and encouragement.