2013-05-10 10:18:56
0 Comments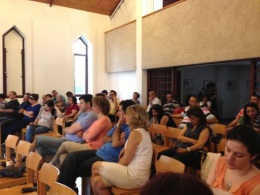 For three consecutive days and during the Easter break, the Local Baptist Church held its annual conference for families in Nes-Amim village. The title of the conference was "Purpose and Vision". The main speaker of the conference was Pastor Dakran Salbashian of the New Life Church (Assembly of God) in Amman.
Pastor Dakran shared about six Biblical principles relating to God's purpose for each person. God has a purpose for everyone. We are sons and not servants. acknowledging these truths should bring joys and pleasure into our lives so that we can further understand our role in building God's kingdom on earth.
Pastor Dakran gave a special lecture for men with regards to living out God's righteousness on earth through our works and daily jobs. At the same time, sister Annie, wife of Pastor Dakran gave a special lecture to the women about the various ways in which we can serve the Lord. In addition to this, couples attended a special lecture by Pastor Dakran and Annie, relating to building family life and the importance of spending time together. They both emphasised that it is a top priority to build love and trust between couples.
On the last day of the conference and after the final message, a lecture was held relating to the steps that one should take after attending the conference and as to how to apply the spiritual messages presented throughout the three days.
Everyone agreed that the conference was such a blessing and spiritually benefited their lives, whether through the preaching, lectures or times of praise and worship led by brothers Ibrahim Copty, Rani Saba, and George Abdo.
(Linga)