2013-03-05 10:16:41
0 Comments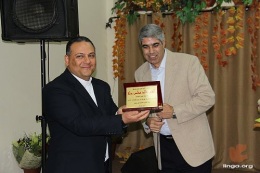 The Baptist church in Eilabun starts a new stage of its ministry which was established many years ago by late Pastor Soheil Ramadan, who passed on the torch in 2002 to Pastor Khalid Dalleh. Today after ten years of Pastor Dalleh's ministry, he is passing the torch to Pastor Hanna Eeid.
Hanna Eeid finished his education in architecture and after getting married to Leena Sadran, the Lord called him to study Theology. He left to the UK in 2001 where he stayed for one year, and in 2004 he started assisting Pastor Khalid and got ordained as an elder in the year 2007. At the beginning of this year, he became Pastor of the Baptist church in Eilabun.
For this reason, the Baptist church in Eilabun held an honouring service for Pastor Khalid Dalleh who finished his service at the church,after a period of time that lasted for ten years.
Pastor Hanna Eeid opened the celebration with a word of welcoming to the audience, as he thanked the Lord for what He did through Pastor Khalid, and for all the many ways in which Pastor Khalid sowed seeds throughout the past years. He welcomed both him and his wife.Daoud Beetar later prayed and asked the Lord's blessing on the celebration. Afterwards, the church's worship team led everyone in a time of praise and worship.
Pastor Hanna spoke about the time when he got to know Pastor Khalid, back when late Pastor Soheil Ramadan was the Pastor of the church. However, due to his illness, Pastor Soheil was not able to continue in ministry .Pastor Khalid then started his ministry in Eilabun where he got involved in the women's meetings and his wife continued this ministry. Home meetings were held afterwards until 2008 when the church rented its current building. Pastor Khalid Dally encouraged the many individuals who have spiritual gifts such as leadership and music.
Pastor Hanna spoke about the characteristics of Pastor Khalid, he said that he loves people and loves visiting them in their homes. He added that Pastor Khalid was very faithful, all throughout the past years and as a result the Lord glorified the work. He also thanked Pastor Khalid's wife, Abeer for being a great support for him in these past years.
A reportage was presented showing Pastor Khalid's ministry. Later, the Mother of William expressed her appreciation to Pastor Khalid and his faithfulness in handling the talents he received from late Pastor Soheil Ramadan. She also added that Pastor Khalid would always frankly express himself without gossiping about anyone.
Yosef Matta shared a poem that he had specifically written for this occasion. He said that Pastor Khalid was one of his greatest encouragers. He and his wife offered a gift of appreciation for Pastor Khalid.
Munther Naa'um, Chairman of the Association of Baptist Churches in Israel, thanked the Lord and said that this ceremony is in honour of Pastor Khalid because he did what the Lord asked him to do according 2 Tim 2:2. Pastor Khalid did not hold tightly to his position but followed the Lord's instructions as mentioned in 2 Tim 2:2. He said that the reason for the success of Pastor Khalid's ministry is that he submitted to the leadership of the Holy Spirit. In conclusion, he was offered a gift on behalf of the Association of Baptist Churches in Israel.
On behalf of the Evangelical convention in Israel, Pastor Hanna Katanacho then offered a gift to Pastor Khalid and to the "the Lord is My Banner" praise team.
A short clip was shown afterwards, prepared by the youth group of Eilabun's church. The clip showed several members of the church answering questions about Pastor Khalid such as: Which song most reminds you of Pastor Khalid? What are your favorite memories of him? And what would you like to say for him?
Later, Pastor Hanna mentioned several people who helped contribute towards the ministry of the church along with Pastor Khalid, such as Nicola Odah, Ayman and Manar Tuma and Wisam Musa. A few members of the youth group offered them gifts thanking them for their services at the church.
There was more time for praise and worship later with Majd Shofani, followed by Pastor Hanna and his wife Leena asking Pastor Khalid and his wife Abeer to get to the front to offer them on behalf of the church a gift of appreciation to the father, the shepherd and the servant, Khalid.
Pastor Hanna called on the ministers to go to the front for laying hands on Pastor Khalid and his wife Abeer, as Pastor Hani Bellan and Rajaee Samawi prayed for them.
Pastor Khalid said that he didn't deserve this honour but that he thanked the church for their love. He also thanked the Lord for the life of late Pastor Soheil Ramadan and the Father and Mother of William Shofani. When Pastor Soheil passed on the ministry to him, he told him: "Take care of the Sheep." And in return, Pastor Khalid repeated the same sentence to Pastor Hanna Eeid when he passed on the ministry to him.
Pastor Khalid thanked his wife Abeer for her help and support throughout the past years. He also thanked the churches of Kafer Yasif and Eilabun. He sang two Arabic songs which translate to: "God, our Father, in the Name of Jesus, Start a Revival" and "Wake up."
In conclusion, Pastor Hanna Eeid thanked everyone who helped arranging for this service and everyone shared dinner together.
(Linga)