2013-02-25 10:15:17
0 Comments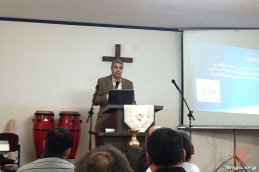 The association of baptist churches in Israel held its annual meeting on Saturday 23 Feb 2013 in Jaffa of Nazereth. The meeting began with a word of prayer and welcome from the association chairman,Munther Na'um.
Pastor Bishara Deeb of Jaffa of Nazareth Baptist church led a time of praise and worship, followed by Pastor Stan Smith,General Secretary of the Baptist churches in Pennsylvania, USA, sharing a devotion from the Word of God.
Munther Na'um gave a report about the work of the Association General Secretary,Bader Mansour, whose work had been evaluated throughout the previous months.
Bader Mansour on his part shared about the things achieved in connection with the work of the association of baptist churches Baptist in Israel, as he shared about some of the upcoming challenges in years to come.
Afterwards, the Association's Executive Council proposed that the general meeting recommends the continuance of Bader's work. After voting took place, a decision was taken by consensus and agreed that Bader's work as the General Secretary of the Association shall carry on, following the recommendation of the Executive Council.
Many topics were put forward such as the suggested budget for 2013 and it was accepted after discussing its items.
Pastor Hany Bellan was nominated as the association representative in the Evangelical Convention , and both pastor Hanna katanacho and pastor Suhel Saad to be part of the spiritual-committee of the Association, and pastor Munir Kakish as a member of the Executive Committee of the Association.
After the secret voting took place, the majority agreed on the names proposed. The meeting concluded with some announcements and everybody had fellowship over food
(Linga)